Anytime Virtual Collaboration
Virtually connect employees, customers, and vendors to engage in product design, training, customer onboarding, and sales product demo's.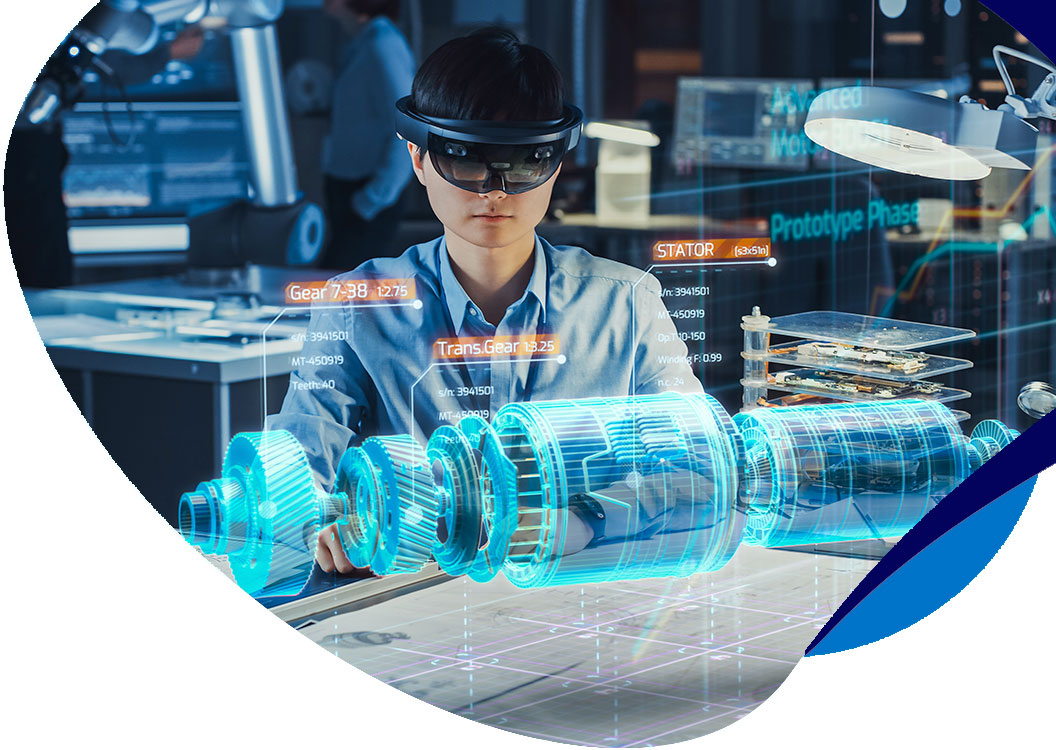 XR 
Learning & Sales Solutions
XALTER provides Learning & Development, Operations, Sales and Marketing leaders with virtual product development labs, MRO and Safety training rooms, and product demonstration spaces to improve productivity and eliminate the lost time and expense of physical travel. We can build custom VR learning and product content to integrate with your existing LMS and IT environment, while also allowing you the ability to build your own object library for virtual interaction.
We specialize in industries that manufacture and operate complex equipment such as energy, high-tech manufacturing, automotive, construction and more.
Learning & Development leaders are under more pressure than ever to reinvent learning to 
We help L&D leaders improve learning outcomes by creating virtual learning experiences to improve inclusiveness, engaging remote learners, and adapting to how Gen Z and Millennial workers prefer to learn.
We help Sales & Marketing leaders create new ways to engage buyers and customers by creating virtual product demonstrations and tours to support demand generation, virtual selling, and customer onboarding.
University educators are also under tremendous pressure to remain relevant in the face of soft enrollment numbers during COVID, and demands to bridge the generational gap between how their Millennial/Boomer instructors teach and their Gen Z students want to learn. Digitally-native students want to experience learning and holding their attention span requires immersive technology such as AR and VR.
We have years of experience combining various XR technologies to deliver classroom learning solutions in both K-12 and higher education. This includes ensuring equitable access and remote student collaboration even before COVID. Our partnership with the Oklahoma State University Institute of Technology is the first of its kind to use XR technology to transform university degree tracks. The learning science insights generated during this multi-year partnership will inform everything we do across private industry and military applications.
The U.S. military owns and operates some of the most sophisticated technology in the world. The maintenance schedules and process workflows are complex and demanding. Traditional methods of training troops such as printed materials, presentations, and How-To videos simply aren't enough – particularly for Gen Z and Millennial learners that "learn by doing" and prefer more immersive, micro-learning techniques.
Our experience developing augmented reality and virtual reality MRO training solutions for the military goes back five years (a lifetime in the XR industry) and covers a range of aircraft and weapons systems. This also includes content deployment across a range of mobile hardware devices, including headsets and smartphones.
Kat Eaton
Senior Marketing Specialist, Creative Solutions - TD Williamson
"Kevin and his team deliver above and beyond every time. As a corporate creative director on a team with limited resources, I need a vendor who can honor our established brand while pushing us forward with fresh and innovative ideas. I also need good communication and project management. Their talent seems limitless when it comes to creative vision and execution, always providing visual storytelling with excellence. "
Deana McCloud
Executive Director - Woody Guthrie Center
"XALTER took on the challenging task of bringing a "historical dust storm" to life for our museum. They delivered on time, remained on budget,  and exceeded our expectations at every stage. Their work creates an experience that reaches visitors of all ages, interests, and backgrounds in a personal way by placing them in a virtual world as they watch a horrific dust storm approach.  This installation has created numerous smiles, lots of "wows" and received great positive reviews and earned media for our facility. As an educational resource, its benefit to teachers and students has proven to be a tremendous way of bringing curriculum studies out of a book and immerse learners in history.  I am a believer in virtual reality as a key part of the museum's content strategy and a believer in XALTER's ability to bring our vision to life.  Their professionalism and ability to envision our concept in order to bring it to virtual reality was incredible, and we look forward to partnering with them again in the future."
Beckie Manley
Founder - Strategy + Creative
Fierce has worked with the XALTER team on creative, successful, and award winning projects for over a decade. The teams attention to detail, commitment to excellence, and efficient production time makes them a wonderful strategic partner for us. We can always recommend their work with a 100% confidence to our clients. As they grow their XR division of the company we are excited to see how they transform industry each step of the way with their heart, innovative approach, and high production value.
Turn Training from a Cost to a Strategic Investment:
R

Attract/retain Millennial and Gen Z learners via immersive sensory experiences

R

Anytime, anywhere access to real-time, real-life scenario training regardless of distance

R

Improve learning measurement and analytics for demonstrating business impact