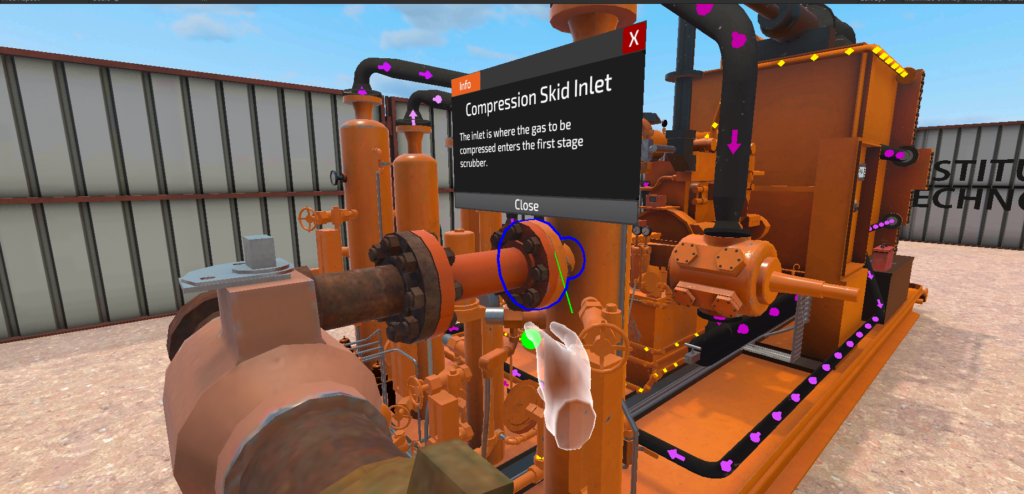 Digital technology is a part of everyday life and it's becoming even more common in midstream energy. Given the challenges of recruiting skilled operators and repair technicians to support compressors, pumps and diesel engines in the field, many midstream operators are beginning to look to digital technologies to fill the gaps in skills and knowledge.
Beyond smart PPE, monitoring sensors, and augmented reality glasses for assisted field service, virtual reality (VR) is now being used to prepare and maintain a skilled workforce – fueled by the growing interest in the industrial Metaverse. Whereas Fortune 500 energy companies such as ExxonMobil, Royal Dutch Shell, Chevron and Baker Hughes have been using VR training for years, midstream gas is now embracing VR for site planning, operator and technician training, and customer onboarding.
Attendees to the 2021 GPA Midstream Convention got a first-hand opportunity to experience VR as part of a live demonstration hosted by the Oklahoma State University Institute of Technology (OSUIT) as part of a VR pilot to transform skills training for energy sector jobs.
While VR doesn't replace hands-on training with real-world equipment, it accelerates it because students gain hundreds of hours of task practice that they simply wouldn't have due to the constraints of accessing real-world equipment. One of the first pieces of midstream equipment that was built in 2021 was a virtual compressor skid that allows students to perform a variety of real-world MRO tasks such as Lockout/Tagout and respond to various safety hazard scenarios in a controlled environment.
This same technology is being made available to energy industry companies for training and workforce development. In May 2022, OSUIT announced a multi-year commitment to further expand its VR program by creating a virtual metaversity campus that will include virtual labs, simulators and a library of virtual equipment models ("digital twins").
The metaversity platform will be featured at the upcoming 2022 GPA Midstream Convention for midstream professionals to experience. "I'm excited about the potential for using VR to transform how we train our students for careers in the energy industry," said Bob Firth, dean of the School of Engineering and Construction Technologies. "The fact is, any real-world training center is going to have limits on physical space, instructors, and throughput – however, VR transcends these limitations to provide anytime, anywhere task and process learning. We believe that what we are building at OSUIT could be a model for midstream and downstream energy companies and we're interested in exploring partnership opportunities to pursue this path together."
The Tulsa-based company behind the OSUIT metaversity initiative is XALTER, and they have partnered with GPA Midstream and GPSA to help their member companies better understand how to approach VR including industry use examples, ROI recovery, and operations improvements.
GPA Midstream and GPSA leadership believe that VR could be transformational for its members as aging Baby Boomers retire and research studies by Accenture, Deloitte, and PwC reveal that VR delivers better learning outcomes while aligning with how Millennials and Gen Z workers prefer to learn.
"Although many were initially skeptical about VR technology, the learning science is compelling and member interest has been positive," said Joel Moxley, GPA Midstream President and CEO. "We had a chance during our February 2022 Board Meetings to better understand the VR use cases across the energy industry and it's clear that this digital technology has opportunities to increase the speed of learning for experienced and as well as new employees in midstream." Companies such as Williams, Targa Resources, Western Midstream, and Kodiak Gas Services are among many that believe VR could be valuable for recruiting, workforce development, safety, and operations.
"As GPA Midstream Chairman, I was excited to learn about the practical applications of VR to midstream operations," said Clark White, EVP at Targa Resources. "Like many midstream companies, we're always seeking to recruit and train skilled labor and ensure safety. Given the shift in generational learning preferences and the real-time access to content, I am very bullish on VR as a key learning and collaboration platform in the energy sector. In fact, I've already purchased a VR headset for my office and have been using several of the OSUIT VR learning modules to explore the possibilities."
While the industrial metaverse may still be in early days, practical use of VR to equip the midstream workforce is going mainstream. "If COVID taught us anything the past two years, it's that the ability to effectively recruit and train workers, engage customers, and collaborate with vendors can change at any time," said Steve Patti, CMO and Industry Advisor at XALTER. "While we can't predict the future – we can prepare for it. Midstream operators are discovering that digital technology like VR can help insulate them from business disruptions by improving their ability to train workers, collaborate with vendors, and sell to customers when face-to-face gatherings aren't possible.