The 3rd annual Industrial XR Forum saw attendees representing multiple disciplines ranging from Learning & Development and Engineering, to Research & Development and robotics. The common thread for most attendees was staying current on the latest use cases of how and where XR technology is being used to transform learning, product development, virtual collaboration, and more.
XR Learning is Transforming Workforce Development in Energy
There's no shortage of excitement about what XR technologies (AR, VR, MR) can do, but gaining widespread C-suite support is still rooted in demonstrating the business case — a combination of use cases and business outcomes. Fortunately, the past three years has seen many studies by PwC, Deloitte, and Accenture that document the efficacy of XR technology and the IXR Forum highlighted even more.
XALTER's CTO Jeremy Kenisky was on hand to host a customer discussion panel to highlight two different, but related organizations that are using XR to transform learning: Marathon Petroleum Corporation and Oklahoma State University. While the former is a major Oil & Gas player, the latter prepares students for careers in Oil & Gas and so aligning their learning experiences to the needs of employers is critical to ensure job-ready graduates. You can watch the recorded discussion here.
We've summarized the highlights of the discussion below.
Mega-Shifts in Learning & Development
Remote work is here to stay
Workforce demographics are changing (Millennials how biggest generation in the workforce)
Digitally-native workers learn differently
Marathon Petroleum: Deployed VR Training Use Cases
Loading Rack training (terminal fuel loading)
Vapor recovery unit training
Safety inspection of rail cars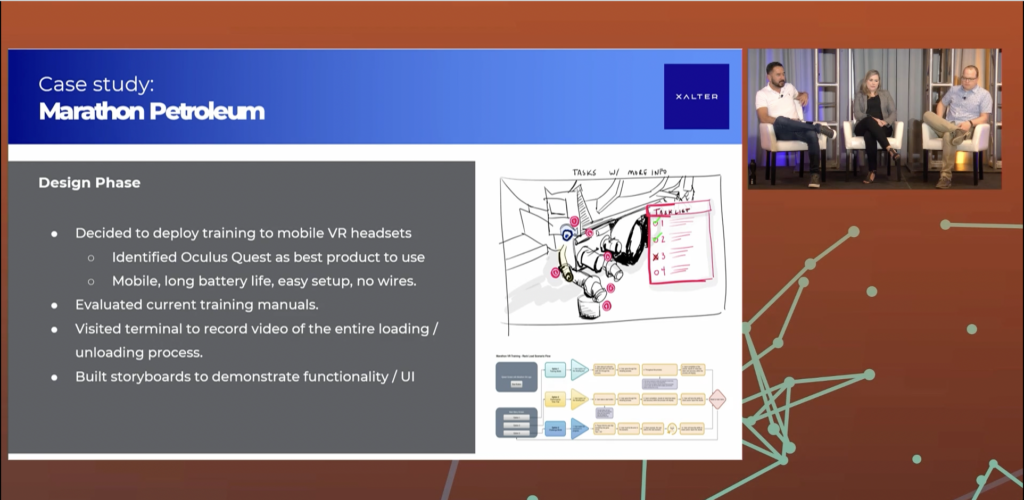 Marathon Petroleum: Business Advantages of VR Training
Avoiding business interruption that can cost money (6-figure cost hit for taking down a loading lane)
Cost savings of travel & expense plus trainers
Increased training frequency that does not rely upon physical equipment/sites being available — leading to increased  productivity and P&L impact
Multi-player is extremely valuable as trainers can join a virtual environment with trainees in another state to coach between a laptop and VR headset devices. This virtual assisted training of remote staff is a game-changer.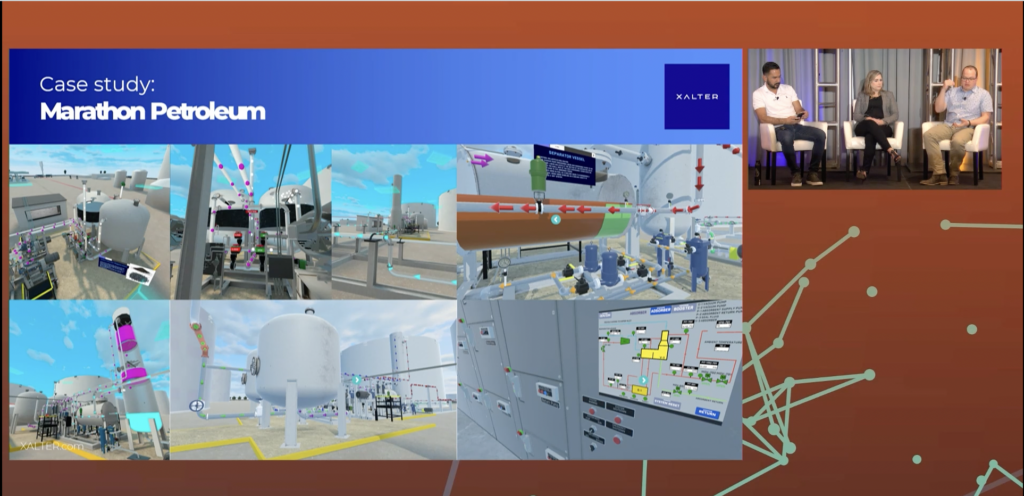 Marathon Petroleum: Key Learnings from VR Deployment
Improve planning, including identifying data capture & reporting needs with greater degree of specificity
Prioritizing features and experiences (priority vs. luxury)
Adoption and use of VR training by older employees was higher than anticipated
Executives are excited about technology, but don't know how to identify next steps (progression of development) so XR providers need to provide guidance and a framework that executives can understand and embrace
OSU: XR Learning Objectives
Better prepare student graduates for technical careers by introducing XR immersive learning
Differentiate OSU's learning experience to attract/recruit more students (especially to their OSU Institute of Technology that is located in a rural area)
Improving the relevance of the education that students are receiving — including remote learning as instructors are students can simultaneously learn and interact, regardless of distance
CLICK HERE to watch the 30-minute discussion session.